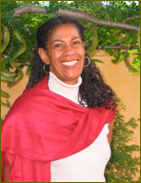 Sunanda Harrell-Stokes, L.Ac., LCSW
Acupuncture, Chinese Medicine & Harmonic Medicine
Sunanda Harrell-Stokes, L.Ac., LCSW – Acupuncture, Chinese Medicine & Harmonic Medicine in 1995.
Sunanda's inspiration and motivation for Oriental Medicine comes from her direct experience of healing from a chronic condition diagnosed as 'neurodermatitis'. Since the age of 5, Sunanda suffered from this condition that caused the skin on the inside of her joints and neck to itch, crack, bleed and take on a rough leathery texture. Medications did not help and generally resulted in an adverse affect on her health. This took a toll on her emotionally, as well as physically.
In 1983 she received her first acupuncture treatment in combination with recommended herbal teas that began to relieve the itching and the pain. By the end of 1984, her skin rarely itched, was smooth, free of pain and the discoloration began to resolve.
Inspired, by 1985, Sunanda began her study of Traditional Chinese Medicine at The Academy of Chinese Culture and Health Sciences in Oakland, CA. The curriculum included the study of both acupuncture, traditional Chinese formulas, herbal medicine and the 'Spirit' of the medicine which refers to the life-giving power inherent in all life forms.
Sunanda Harrell-Stokes comes to MindBody from Tucson, Arizona where she served as the senior Oriental Medicine Practitioner at Canyon Ranch Health Resort and Spa for 17 years. She is a licensed acupuncturist in four states, certified by NCCAOM and trained in Harmonic Medicine (the use of sound frequencies to balance energy) by the Kairos Institute of Sound Healing in New Mexico and by Keilchiro Kita in Tokyo, Japan. Sunanda is one of three practitioners in the United States who is certified in Kita Peace Creating Sound Healing.
Addressing the source, not just the symptoms
Sunanda's vision is to support the emergence of health, wholeness and deep inner peace by bringing you a unique synthesis of Eastern and Western healing traditions. Sessions are tailored to your needs and designed to heal and balance your mind-body system to effectively release the stress and imbalances that are the root cause of so many modern ailments.
What can you expect?
During your first session, Sunanda will listen carefully to your concerns and create an assessment using Traditional Chinese Medicine Tongue and Pulse diagnosis and modern Biofeedback technology. This, coupled with information specific to how the imbalance is manifesting in your body, will guide her selection of healing modalities to re-establish flow and balance in your life. She combines her expertise in Acupuncture, Harmonic Medicine, Acutonics, Biofeedback, Moxibustion, Cupping and Chinese herbal formulas to assist each individual to reach his or her optimal health. She will then provide a session and review with you a treatment plan that includes a suggested number of sessions to reach healing.