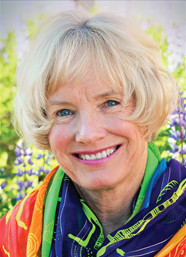 Glenyss Lim RN, B.Soc.Sc.
Glenyss is a New Zealander who has lived half her adult life in the USA. She has had almost 40 years working in the healthcare profession in both countries, initially as a Medical Social Worker and then as a Registered Nurse. She has worked in multiple fields including Oncology, Hospice and Behavioral Health. More recently she has been responsible for developing holistic services within a behavioral health facility.
She has had the privilege to study with some world-acclaimed women, including Elisabeth Kubler Ross, renowned for her work on death and dying; Lynn Andrews, a Shamanic teacher of ancient women's knowledge; and Vickie Dodd, Teacher of Sacred Sound. All of these and more have made a profound impact on her life.
Among her skills, Glenyss holds certification as a Trauma Release Exercise (TRE) practitioner, is a Bereavement Facilitator and is versed in LaHo Chi energy work, sound healing and meditation.   Her work has a somatic basis arising from the recognition that our body has its own innate wisdom and is programmed to constantly move toward homeostasis and wellness.
Focus and Services:
Glenyss' core objective is to assist you in healing your total organism – physical, mental, emotional and spiritual bodies.  With this intent, she has developed her own unique blend of modalities which she brings to your sessions to support you in a safe, nurturing environment.
Services offered include individual sessions with a focus on stress and/or trauma release and/or healing from loss and grief.  These issues are known to us all and impact our total health in a myriad of ways.
Following is a brief description of trauma release exercise and a synopsis on loss and grief:
TRE is a process to release stress and trauma from the body.  Through consciously activating natural neurogenic tremors in a controlled and sustained manner, deep chronic muscular tension held within the body is released.  TRE provides the opportunity for all people to reduce their stress and anxiety as a result of daily as well as exceptional life experiences.  This is a method participants can learn to use themselves at home. TRE, a revolutionary new method, can be offered to both individuals and groups.
Loss and grief is a normal, natural part of life.  Our challenge is to cope with the circumstances and feelings that arise, in a healthy manner.  When we understand our historical personal patterns and responses, we can discover what healthier responses look like and learn tools for moving through loss and grief.  All this and more may be explored in sessions with Glenyss.
Individual sessions are offered, and upon demand, group classes of TRE, sound, meditation, and loss and grief may be available.